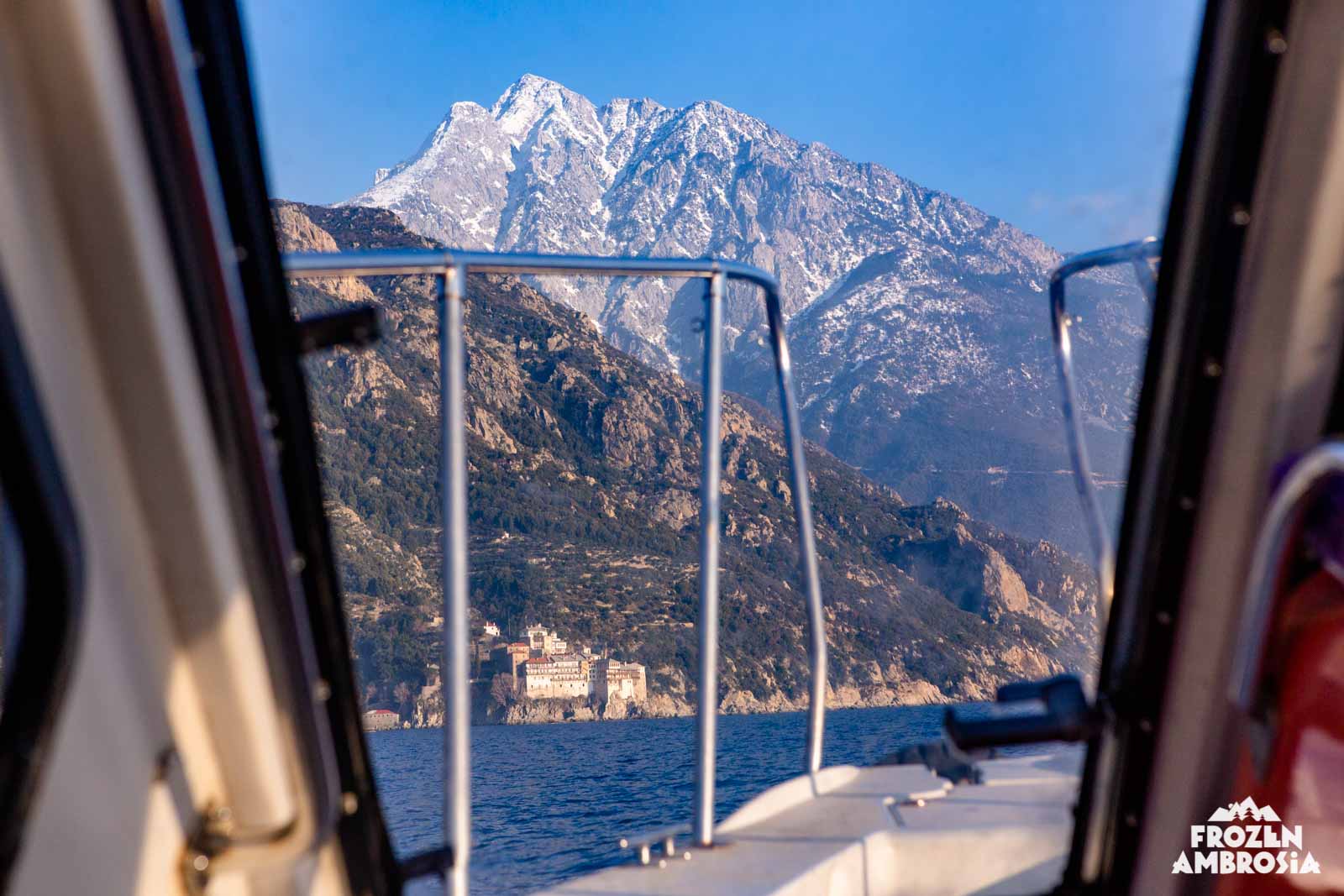 Mount Athos skiing and split-boarding report.
Athos in Greek mythology is the name of one of the Gigantes that challenged the Greek gods during the Gigantomachia. Athos threw a massive rock against Poseidon, which fell in the Aegean sea and became Mount Athos. According to another version of the story, Poseidon used the mountain to bury the defeated giant.
Frozen Ambrosia Map
Travelers' Map is loading...
If you see this after your page is loaded completely, leafletJS files are missing.
Mount Athos is commonly referred to as the Holy Mountain, or Agion Oros. Other languages of Orthodox tradition also use names translating to "Holy Mountain", including Bulgarian and Serbian, Russian, and Georgian. In the classical era, while the mountain was called Athos, the peninsula was known as Acté or Akté (Ἀκτή).
Mount Athos has been inhabited since ancient times and is known for its nearly 1,800-year continuous Christian presence. It has a long historical monastic tradition, which dates back to at least 800 A.D. and the Byzantine era. Today, over 2,000 monks from Greece and many other countries, including Eastern Orthodox countries such as Romania, Moldova, Georgia, Bulgaria, Serbia and Russia, live an ascetic life in Athos, isolated from the rest of the world. The Athonite monasteries feature a rich collection of well-preserved artifacts, rare books, ancient documents, and artworks of immense historical value. Since 1988, Mount Athos has been listed as a World Heritage site.
This article uses material from the Wikipedia article
"Mount Athos"
, which is released under the
Creative Commons Attribution-Share-Alike License 3.0
.
Videos (Mount Athos First Ski Decent)
Photo Gallery
Winter in Greece
One of the most surprising things about Greece is how close the mountains are to the major cities. Three quarters of the county lives within a 2 hour drive of world class backcountry ski touring. Due to the recent break-though in ultra lightweight gear, Greece has become a world-class destination for ski touring and split-boarding.
Greece is a place that inspires the human soul. Certainly, for skiers and snowboarders, to visit the same mountains that you learned about as a child is an experience that is completely unique. Imagine spending the night on Mt Olympos, waking up to the sunrise across the Aegean sea, then skiing run right next to the Throne of Zeus. It's magic! It's an experience you won't find anywhere else on the planet.
To watch the full winter adventure in Greece, check out the feature film Frozen Ambrosia.